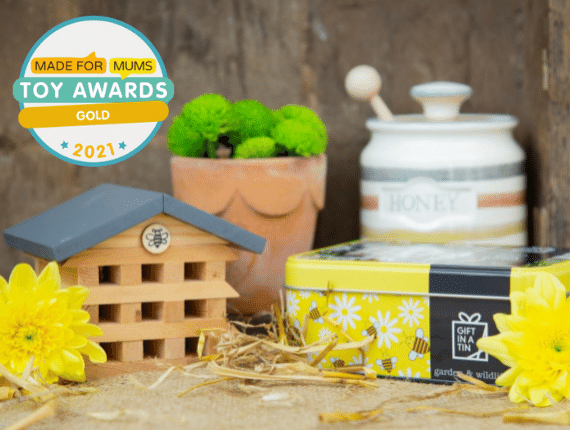 We are Award Winners in the Made for Mums Toy Awards 2021
We are very excited to have been announced as winners of two Gold Awards and one Bronze Award in the Made for Mums Toy Awards 2021!
We entered these three gifts into the awards, and we are delighted - and totally humbled - that all three came back with either a Gold Award or a Bronze Award.
The entries were all judged by children (and their parents) through the Made for Mums community. This means that the gifts we lovingly create for children have been given a big thumbs up by the very people we create them for. This makes our wins even more wonderful and satifying and we hope you feel proud as punch to be one of our cherished stockists.
GOLD AWARD IN THE CATEGORY 'BEST SUSTAINABLE/ETHICAL TOY CATEGORY'
Build a Bee Hotel - £12.99 RRP - Our Build a Bee Hotel is a firm favourite amonst our customers and stockists. It is perfect for families who want to get to know nature, create something worthwhile and watch as bees make a home in their very own little hotel.
GOLD AWARD IN THE CATEGORY 'BEST ART/CRAFT TOY OR KIT (5 YEARS +)'
Magical Fairy Fun - £12.99 RRP - Magical Fairy Fun is a crafting kit that encourages little ones to craft eight of their very own fairies and a fairy door to place in the garden! Enchanted, crafty adventures await with this wonderful tin.
BRONZE AWARD IN THE CATEGORY 'BEST EDUCATIONAL LEARNING TOY (3 YEARS +)'
Ocean Adventures - £12.99 RRP - A wonderful way to learn about our oceans and sea creatures. This tin is packed with wooden play pieces including a blue whale, narwhal, polar bear family, penguins, seal, turtle, octopus, dolphins, puffins, shark, stingray, coral, 3 felt mats, paper fish and seahorses. There is so much packed in this tin!
For a list of all winners, please click here! https://www.madeformums.com/re...