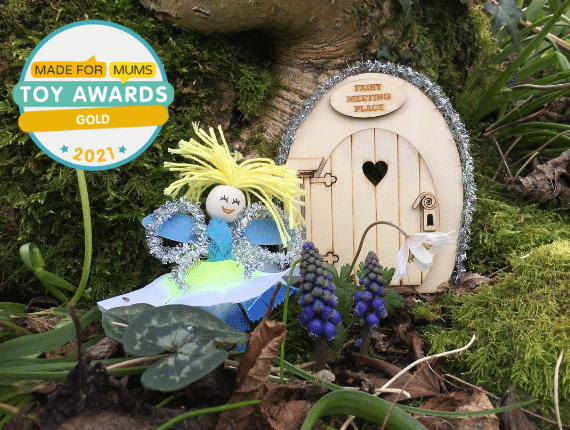 In the Press: Gold for Gloucestershire's toy and gift company Apples to Pears
Local gift company, Apples to Pears based in Brimscombe near Stroud, has won not one, but three awards in the Made for Mums Toy Awards 2021.
Made for Mums, the well-known product review website for parents, has today announced that Apples to Pears has won Gold in two categories and Bronze in a further category.
Winning Gold in the Best Sustainable / Ethical Toy category, the Build a Bee Hotel is from the Gift in a Tin range. Highly popular with parents and children, this tin contains everything you need to build a home for bees. Bees are an important part of the eco-system and this build kit aims to encourage children to learn and get involved from an early age.
In addition to the Build a Bee Gold Award, Magical Fairy Fun, a crafting tin from the Gift in a Tin range, also won Gold - in the Best Art / Craft Toy or Kit (5 years+) category. And then we have Ocean Adventures. This Gift in a Tin is packed with wooden sea creatures and facts about our seas and oceans, winning Bronze in the Best Educational Learning Toy (3 Years +).
Apples to Pears is no stranger to winning awards, having won many Gift of the Year awards over the past ten years and taking home a Progressive Pre-School Award with Farm in a Tin in 2014.
Joint Managing Director at Apples to Pears, Mark Wash says:
"We were delighted, and quite humbled, to hear the news that we had won in three categories in the Made for Mums Toy Awards 2021. This past 18 months have been challenging for everyone so we would like to extend our thanks to the Made for Mums community as well as to our customers and stockists who love our gifts as much as we do.
Our Gift in a Tin collection has been designed to engage children in crafting, building, learning and getting outdoors and we are grateful that this has been recognised by the Made for Mums Toy Awards."
- Ends -
For a list of all winners, please click here: https://www.madeformums.com/re...