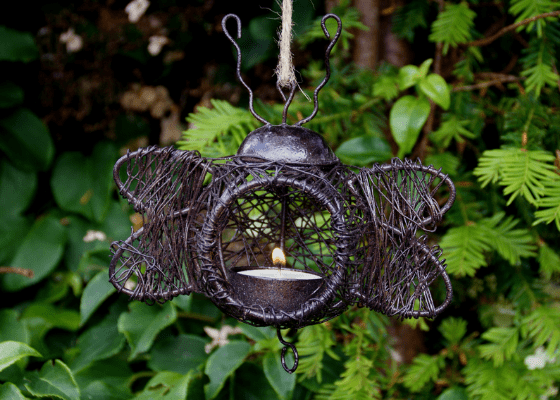 Your Gardening Tips for August
Gardening Tips: What to do in your garden in August
The summer sun has really warmed the garden and whilst there is plenty to do it's a good time to relax and enjoy the summer flowers. To keep annuals blooming keep on dead-heading on a daily basis and don't forget to liquid-feed all plants in containers once a week – it really works!
In the daytime, the butterflies and bees are still busy, flitting from bloom to bloom. But I also like these cute ornamental filigree bees, they look lovely in the daytime hanging from trees or bushes but at night just insert and light a tea light in each one and they really come to life. Perfect around a summer's evening barbecue or gathering…
In The Garden
Cut back Hippeastrum (Amaryllis) leaves to 2" (5cm) high once they have died back.
Continue to dead head roses.
Cease the use of rose food as it will promote soft growth late in the season.
Remove supports from herbaceous plants which have finished flowering & cut off tall or weak stems. Gather seed as it becomes ripe.
Support taller Dahlias as they will produce a heavy display from now through to late autumn. Feed with liquid feed.
Cut Sweet Pea blooms regularly to keep fresh flowers coming.
Dead head bedding plants especially in pots and hanging baskets to keep the display fresh.
Start to plan which bulbs you might need this year, they can be planted from September onwards so it's good to get your orders in soon.
Propagate Rhododendrons by layering – place a stone over low branches to hold them to the ground & leave in place for 1-2 years.
Continue to keep hedges trimmed.
Remove weeds from the base of the hedge to keep it healthy.
This is the last month to repot any pot-bound houseplants – remove as much of the old surface compost as possible being careful not to damage the roots. It is not wise to repot after August as it encourages weak winter growth.
Some Seeds To Sow In August
Sow seeds for Spring Cabbage and Winter Lettuce.
Sow fresh gathered seed from the garden of perennials such as Early Geraniums, Foxgloves, Poppies, and Verbena.
Keep half of the seed back to sow next spring.
Some Cuttings To Take
It is a good time to take cutting of tender plants that might not successfully over winter outside including: Tender Fuchsias, Geraniums, Pelargoniums, Lemon Verbena.
Herbs: take cuttings of Bay, Mint, Hyssop, Lavender, Rosemary & Sage.
Still take cuttings of shrubs such as: Abelia, Hebe, Aucuba, Berberis, Buxus, Ceanothus, Clematis, Escallonia, Hydrangeas, Buddleia, Camellia, Jasmine, Lonicera (Honeysuckle).
Take cuttings of alpines such as Helianthemum and Dianthus.