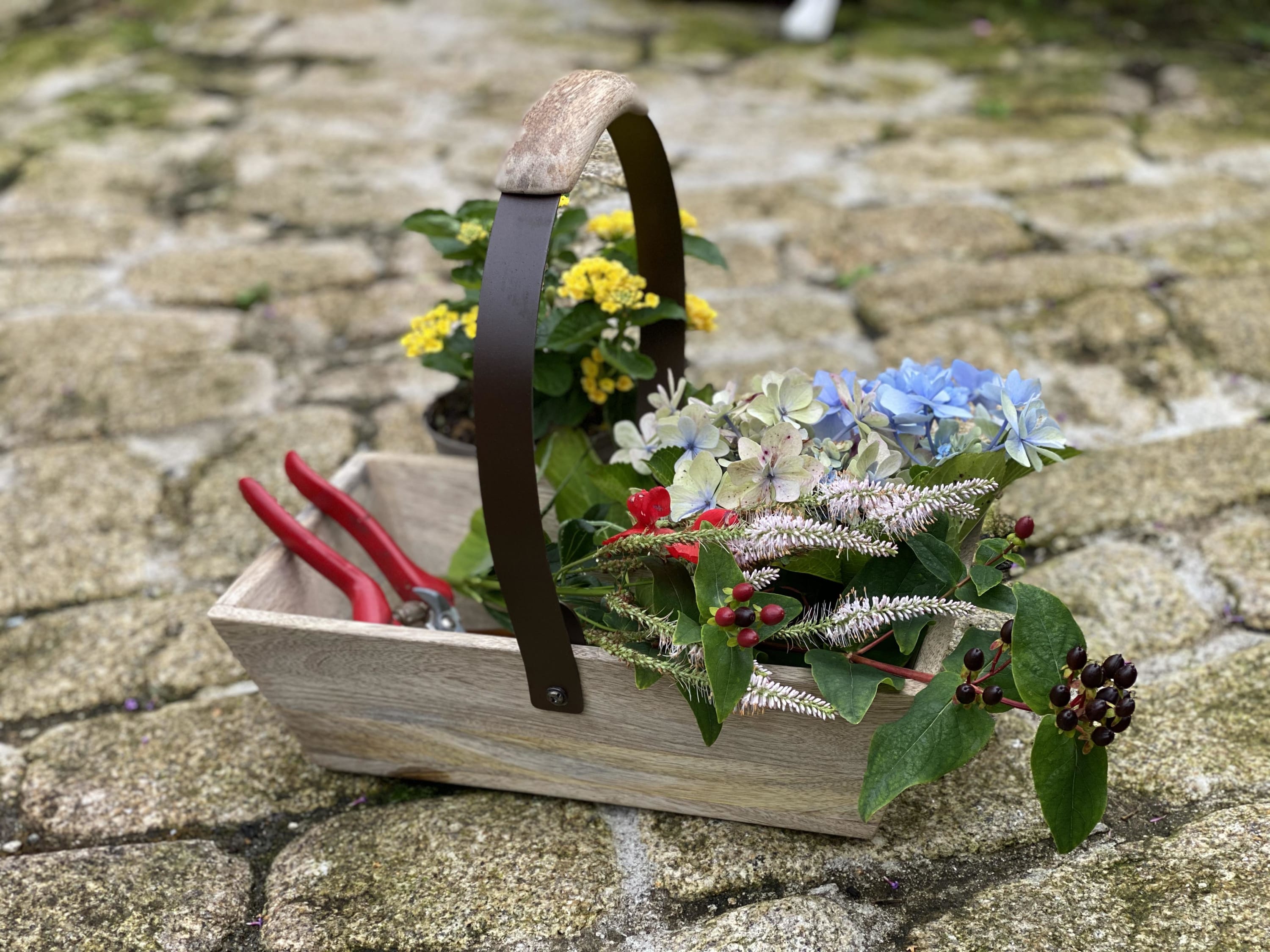 Apples to Pears Gardening Tips for Garden Lovers in July
Our joint managing director, Mark Wash, gives us his tips and advice for managing your garden in July. Make sure you get the best out of it and prepare your garden for the months ahead with Mark's tips in mind.
July is the month when many annuals come into their peak but keep on top of dead heading and feeding to keep them going right through the summer. Regular feeding really pays off!
This month also sees a whole range of perennials come into bloom including many of my favourites – South African beauties such as Crocosmia, Agapanthus and Gladioli. They replace the traditional spring flowering perennials and bring the garden back to life again. Enjoy their vibrant colours and consider where you might add extra ones to liven up the borders.
With so much trimming and dead-heading to do, my trusty folding pocket secateurs are always at hand, so useful in every way.
July jobs in the garden
Dead head sweet peas and bedding plants as the flowers fade. This will encourage a continuing profusion of fresh blooms.
Summer prune established Wisteria to encourage next year's flowers – cut back all side shoots to around 6" (15cm) of the main stem leaving 4-6 flowers on each shoot.
Continue to cut back herbaceous plants including Delphiniums and Lupins once flowering is over to 4" (10cm) high – this will encourage fresh growth and more flowers later in the season. Do not cut back Paeonies – just dead head the faded flowers.
Dead head roses to encourage fresh buds.
Dig up large hybrid tulips once the leaves have withered – the bulbs are best dried out on a sunny ledge for 2 weeks before storing in a cool airy place for November planting.
Plant autumn flowering bulbs as soon as they become available including autumn crocus, colchicums and Sternbergia.
Trim back alpines after flowering to tidy the plant and encourage fresh blooms.
Prune back shrubs and climbers such as Ceanothus, Philadelphus and Jasmine immediately after flowering – remove flowered stems and weaker shoots. Pruning at this time will encourage better flowering next year.
Collect fresh fruit as soon as it ripens – do not leave on the plant to avoid damage by birds and wasps.
Continue to harvest tomatoes once ripe; remove side leaf shoots as they appear – this keeps all the energy into swelling the fruit.
Early in the month, summer prune all side shoots on fruiting vines back to 2-3 leaves beyond a young bunch of grapes.
Cut back prolific herbs such as mint. Fresh shoots will come again in just 2 weeks.
Watch out for pests in the garden, it's a good idea to investigate any hole that appears. Look under pots for slugs that hide away, check the underside of brassica leaves for eggs and dispose of any you find before they hatch into hundreds of hungry caterpillars! One greenfly or blackfly on a plant can soon become hundreds, so keep a daily check and use a soft soap spray if you find any.
Stop watering Hippeastrum (Amaryllis) bulbs and allow the leaves to die back.
Relax, have a summer barbecue and enjoy the garden!
Seeds to sow in July
Fresh Primula seed.
Herbs – Chervil, Dill & Parsley can still be sown.
Salad Crops – Spring onions, lettuce, radish.
Cuttings to take in July
Regal Pelargoniums, Aucuba, Berberis, Buxus, Ceanothus, Clematis, Escallonia, Hydrangeas, Buddleia, Camellia, Jasmine, Lonicera (Honeysuckle).
To stock up on Apples to Pears products, browse our collection of gardening gifts and products here.